Are you struggling to stay on top of your debt?

Let's talk debt consolidation to get you back on track.
Save money, get control, and regain confidence in your financial future.

Put all your debts (home loan, car, credit cards, personal loans), into one easy to manage loan

Save money on your interest rate and repayments

We're caring, understanding, and work hard to get you the right solution
If you're feeling burdened with debt,
come and speak with us
.
We will do everything we can to help get you back on track.
Do you have multiple debts that are hard to stay on top of? Debt consolidation is the process of consolidating your debt into a single loan (usually by adding them to your home loan). When you do this, not only is it far simpler for you to manage your debt, but you will pay significantly less interest than you were when you had multiple loans.
How debt consolidation works
If you have multiple loans for say, your home loan, car loan, credit cards and personal loans, you can lump these all together under your mortgage. Because debts like credit cards and personal loans attract a much higher interest rate than your home loan, once these debts are under your home loan you will be paying far less interest than before, so you can pay off your debts far more quickly.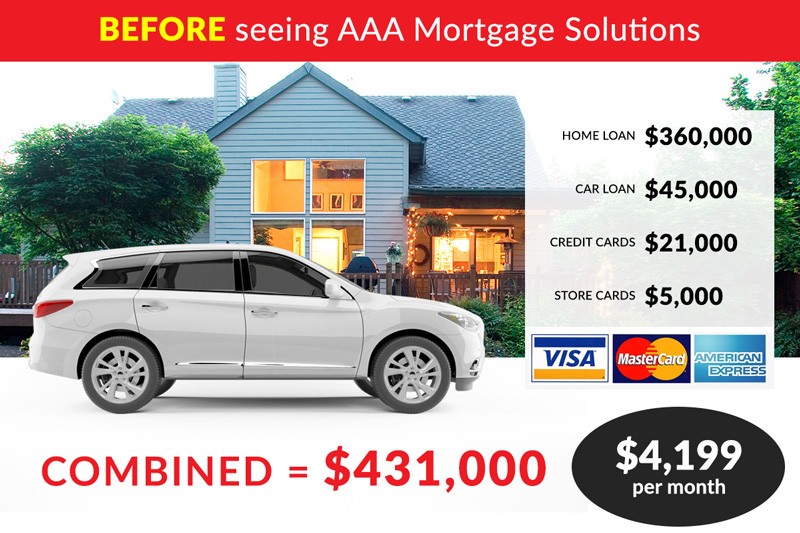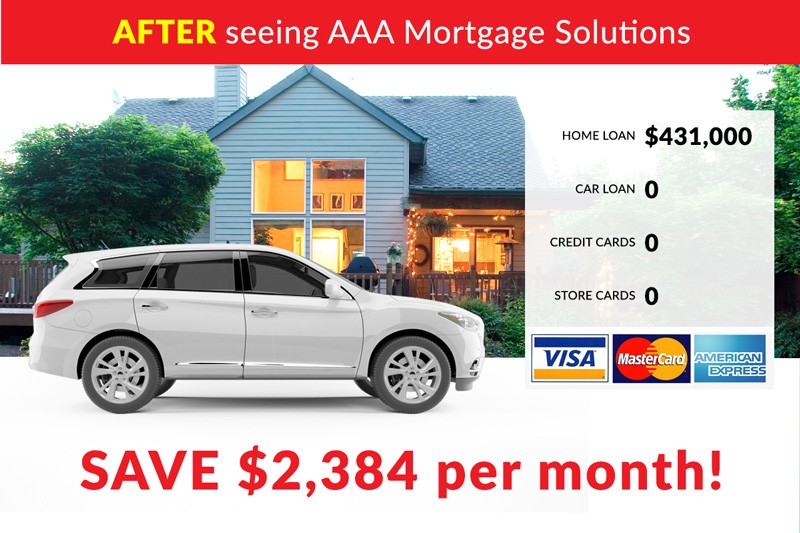 You may create a saving by consolidating all debts into one loan, and one low interest rate. The total loan is now $431,000 (@ 2.99% p.a.) over 30 years. The repayments are reduced to $1,815 per month. This creates a reduction in payment of $2,384 per/month, freeing up cash for a better quality of life, or you can continue to pay $4,199 per/month saving you Years and Tens of Thousands of Dollars of your loan. This example is based on a Home Loan of $431,000 at 2.99% p.a. over 30 years and paying out all other debts in full.
What you need to consider
Before consolidating debts, you should always check the terms of your existing loans in case they have fees or penalties for paying them off before the approved timeframe. You will also need to consider increasing your mortgage repayments so that it ends at the same time as before.
It's safest to speak with a professional about debt consolidation, as they can go over your existing loans and help you work out your best course of action.
Learn more about debt consolidation
Do you think debt consolidation is for you? Our team are here to educate you and inform you of your options. In the meantime, use these resources to find out what you want to know.
We're here to help our clients, in good times and in hard.
Speak to one of our caring, hardworking team
to discuss your situation and find the right solution.